Inflatable Life Jacket PFD 1 Level 150 - Blue (Economy Version) - Australian Standard AS 4758
AU $61.00
(YOU SAVE AU $40.00)
Or 4 interest-free payments of AU $15.25 with

Learn more.
In Stock
SKU: MENPF070
HAVE A QUESTIONS
Speak to our dedicated team (10am - 4pm AEST on business days)
Key Features
Manual Inflation Valve

33g CO² Gas Cylinder Included

Single Pull Inflation Cord

Sturdy Buckle

Grab Strap

Replaceable Single Use Gas Cylinder

Built-in Whistle

Perfect for any boater or fisher

Comfortable

Lightweight

Hard wearing

Hi visablilty once inflated

AS4758.1 Safety Standard (latest)
Description
Unlike traditional Life Jackets, these Inflatable PFD Life Jackets are one of the most comfortable types on the Australian market and designed to be comfortable when wearing them for extended periods of time. Australian and New Zealand standards, AS4758.1 (newest standard) approved and made from quality materials. Don't risk your safety or your families safety with anything less than the best in comfort and safety.

Note: The date printed on our CO² gas cylinder is the date of manufacture (Not the expiry). Providing the cylinder has no corrosion and weighs within +/- 2g of the printed weight, the cylinder is good for 5-10 years for recreational use.
Official Weight Rating: 40kg~70kg, > 70kg (i.e 40kg and above). This style of Life Jacket is only for Adult use.
Looking for a Premium Inflatable Life Jacket with pocket and stainless streel buckles?
Servicing & Self Inspection
As with all inflatable Life Jackets, it's a legal requirement to service them annually as per the manufactures instructions.
These Inflatable Jackets can be self serviced for the first two years, but it is highly recommended to have them professionally serviced by an authorised service agent on the 3rd year.
Here is a copy of the service manual & self inspection checklist.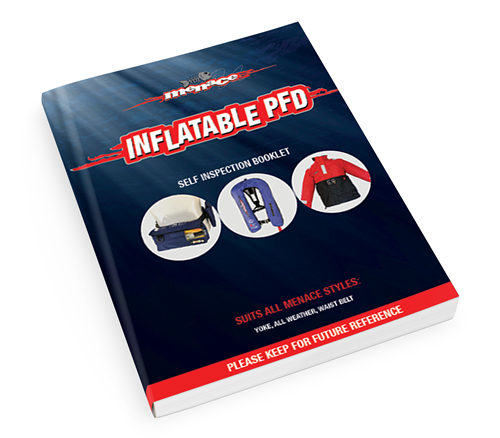 Download our PFD self inspection booklet here.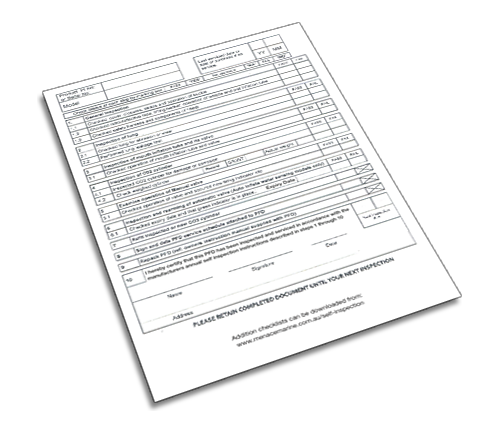 Download just the inspection checklist here.
PROOF OF PURCHASE
To ready yourself for when fishing authorities check your safety equipment, it is important you have your proof of purchase with you when out boating. The best way to do this is to put a copy of your PFD receipt/invoice inside a sealable bag like a Glad ziplock bag, and then put this in your pfd pocket.
Why do I need to do this? Your legal servicing requirements start from the date of purchase not the manufacturer date.
UNDERSTANDING PFD STANDARDS
The New Australian Standard is AS4758 (as of July 2010)
The change that will be most noticeable is a new way of identifying PFDs for different uses.
The new standard introduces the identification of PFDs by 'levels'.
Level 150 - similar to inflatable PFD Type 1 and suitable for offshore use
Level 100 - similar to PFD Type 1 and the minimum requirement for offshore use
Level 50 - similar to PFD Type 2
Level 50 Special Purpose (50S) - to replace PFD Type 3
Below are the relevant handbooks for most states & territories (including New Zealand)
Click an Image to open the handbook
Although the Safety Standards for life jackets apply national wide, the situations in which they must be worn may vary in each state.
Make sure you check the regulations in your local area before hitting the water.
Specifications
| | |
| --- | --- |
| Sizing | Waist / Chest: 55cm - 130cm |
| Rating | Old Equivelent: PFD Type 1 |
Delivery
All Items will be shipped within 24 business hours after full payment has been received.
We use Australia Post eParcel service to ship most items except certain large items will be shipped by Courier.
Please provide your best contact phone number with your order in case the courier driver needs to contact you upon delivery.
You will receive a confirmation email with shipment tracking details after item is despatched.
Please allow up to 10 business days for delivery of the product.
In the unlikely event that a problem should occur, please contact us first, and we will do our best to resolve any concerns.
Returns
All Sales are Final. Seller won't accept exchange because item is not what was expected, change of mind, or any other excuse.
An item can only be returned to seller after the seller agrees. Any item sent back to the seller without prior agreement will automatically be rejected and returned at sender's expense (if any).
For any Return, buyer is responsible for postage back to seller.
Payment
We accept Paypal, Credit Card or Bank Deposit.
Payment must be made in 4 days after order placed.
About Us
Founded in 2005, Kaiser Boating is 100% Australian owned and operated.
We supply Boating, Caravan, RV, Fishing, Camping accessories and many more.
We source and import all products directly from manufacturers and offer the best quality products and prices to our customers.
As we are actively expanding our inventory, please check back if you can't find what you're looking for. Or message us and let us know, we may be able to get it