Level 100 Triton PFD Type 1 Foam Life Jacket - Child Extra Small
AU $55.00
(YOU SAVE AU $30.00)
Or 4 interest-free payments of AU $13.75 with

Learn more.
In Stock
SKU: MENPF010
HAVE A QUESTIONS
Speak to our dedicated team (10am - 4pm AEST on business days)
Key Features
Safety Features:
Bright Approved Safety Colour

Level 100 PFD Type 1
AS4758.1 Australian Approved Jacket
Leg/Crotch/Thigh Strap for Child's Safety
Head floatation flap to help keep head above water
Buoyancy Rating: 35 Newtons Buoyancy
Heavy Duty YKK Zip on Front (With a Safety Zip Holder)
Comfort Features:
Comfortable Fit Design
Adjustable Waist Strap
Elastic Waist for added comfort and protection
Closed Sided
Lightweight EPE Foam
Heavy Duty (non-corrosive) Zipper
Description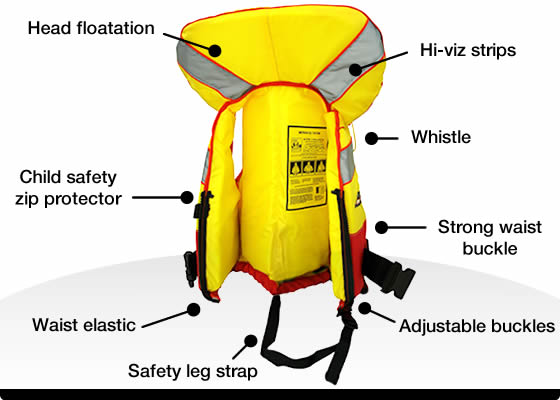 This Triton Life Jacket meets the latest Australia Standard (AS4758) to give you peace of mind when around water with your children. A Level 100 (Type 1) Life Jacket is designed with your safety and comfort in mind. Made with a bright safe visible colour and large arm holes for freedom of movement, this safety vest can be worn all day long.
It also features an adjustable strap so the Life Jacket can be secured around various body shapes. For added safety it includes a safety whistle, a strong zip, HI-VIZ strips and strong buckles. Because this is a child jacket, it has the very important leg/groin strap to reduce the risk of the jacket floating up over the childs head when in the water.
Size: CHILD X-SMALL
Weight: 10 - 15 KG
Rating: Level 100 (Type 1)
Max Chest: 75cm
Not for Babies or Infants:
It's important that both the weight and chest size suits your child. Although your child may be within the weight bracket, the jacket's chest size may still be too large.
From experience, this XS Jacket is generally not suitable for children younger than 2.5 years old, and is definately not suitable for babies or infants.
(Inflant jackets have to be specifically designed to accomodate an infants disproportionately large head size.)
Safety Tip:
It is always recommend to test the life jacket on the child in a safe environment before general use. This will reduce the risk of the child panicking in a real emergency, plus you will be able to ensure the jacket fits properly. Test it, your child's life is worth it.
UNDERSTANDING PFD STANDARDS
The New Australian Standard is AS4758 (as of July 2010)
The change that will be most noticeable is a new way of identifying PFDs for different uses.
The new standard introduces the identification of PFDs by 'levels'.
Level 150 - similar to inflatable PFD Type 1 and suitable for offshore use
Level 100 - similar to PFD Type 1 and the minimum requirement for offshore use
Level 50 - similar to PFD Type 2
Level 50 Special Purpose (50S) - to replace PFD Type 3
Below are the relevant handbooks for most states & territories (including New Zealand)
Click an Image to open the handbook
Although the Safety Standards for life jackets apply national wide, the situations in which they must be worn may vary in each state.
Make sure you check the regulations in your local area before hitting the water.
Specifications
| | |
| --- | --- |
| PFD Rating: | Level 100 (Type 1) |
| Size: | CHILD X-SMALL |
| Weight Rating: | 10-15kg |
| Chest: | 50 - 70cm (for best fit) |
Delivery
All Items will be shipped within 24 business hours after full payment has been received.
We use Australia Post eParcel service to ship most items except certain large items will be shipped by Courier.
Please provide your best contact phone number with your order in case the courier driver needs to contact you upon delivery.
You will receive a confirmation email with shipment tracking details after item is despatched.
Please allow up to 10 business days for delivery of the product.
In the unlikely event that a problem should occur, please contact us first, and we will do our best to resolve any concerns.
Returns
All Sales are Final. Seller won't accept exchange because item is not what was expected, change of mind, or any other excuse.
An item can only be returned to seller after the seller agrees. Any item sent back to the seller without prior agreement will automatically be rejected and returned at sender's expense (if any).
For any Return, buyer is responsible for postage back to seller.
Payment
We accept Paypal, Credit Card or Bank Deposit.
Payment must be made in 4 days after order placed.
About Us
Founded in 2005, Kaiser Boating is 100% Australian owned and operated.
We supply Boating, Caravan, RV, Fishing, Camping accessories and many more.
We source and import all products directly from manufacturers and offer the best quality products and prices to our customers.
As we are actively expanding our inventory, please check back if you can't find what you're looking for. Or message us and let us know, we may be able to get it