Premium All Weather Auto Inflatable PFD Life Jacket Level 150 Type 1 - XXXL
AU $299.00
(YOU SAVE AU $100.00)
Or 4 interest-free payments of AU $74.75 with

Learn more.
Sold Out
SKU: MENPF105
HAVE A QUESTIONS
Speak to our dedicated team (10am - 4pm AEST on business days)
Key Features
Useful Features:
Internal Safety Belt with Stainless Steel Tether Loop
Removable Sleeves (stay cool in warm weather)
Lined Hood
Chin Collar Flap
Basic Safety Features:
Australian AS4758.1 Approved
Australian AS2227 Yachting Harness Approved
ISO 12402-3 International Standards Approved
Automatic Inflation Cartridge (replaceable)
Manual Override activation cord
Whistle
Backup Oral Inflation Tube
Advanced Safety Features:
Water Activated SOLAS UML Strobe Light (be found even at night)
Top quality British UML Pro-Sensor Elite Automatic Cartridge (you deserve the best)
Description
This All Weather Auto-Inflate Life Jacket is Australian Standards AS4758.1 Approved.
Sizing:
Chest: 135-140 cm
Waist: 135-150 cm
Body Weight: 40 kg and over
Note: These jackets are sized quite large. If you're unsure, order the smaller size. Exchange requests typically only ever ask for a smaller size.
Rating:
Buoyancy: 150 Newtons
Official Type: Level 150
Old Equivalent: PFD Type 1
A feature-packed all-weather jacket that has all the bells and whistles you need in a high-quality life jacket. It is comfortable to wear and will automatically inflate when submerged in water. It has been designed to ensure a high level of comfort and practicality while not compromising on any of its many safety features.
Unlike other jackets on the market, we have developed a unique release flap on the back that prevents the jacket from restricting your breathing when inflated. The Jacket as a whole has a nylon outer shell and a polyester inner lining that provides great warmth and water protection in all weather conditions.
All the features you need, like a rain hood that tucks away into the collar, removable sleeves for warm weather use, loads of pockets and even a stainless steel tether loop for securing yourself.
This personal floatation device is great for extreme weather conditions and perfect for fishermen and boaties. The jacket has an automatic inflation system built-in that uses the CO² cylinder to inflate the jacket when it is submerged in water. With a replaceable 33g CO² cylinder that provides 165 newtons of buoyancy, it also has the required backup manual inflation ripcord, just in case.
Importan Note:
The date printed on our CO² gas cylinder is the date of manufacture (Not the expiry). Providing the cylinder has no corrosion and weighs within +/- 2g of the printed weight, the cylinder is good for 5-10 years for recreational use.
The Automatic Inflatation Cartridge will have between 2-3 years of usable life before a replacement cartridge is needed. The Life Jacket can still be used Manually without this cartridge.
Official Weight Rating: 40kg~70kg, > 70kg (i.e 40kg and above. They do have a recommended max weight of 130kg)
Servicing & Self Inspection
As with all inflatable Life Jackets, it's a legal requirement to service them annually as per the manufactures instructions.
These Inflatable Jackets can be self serviced for the first two years, but it is highly recommended to have them professionally serviced by an authorised service agent on the 3rd year.
Here is a copy of the service manual & self inspection checklist.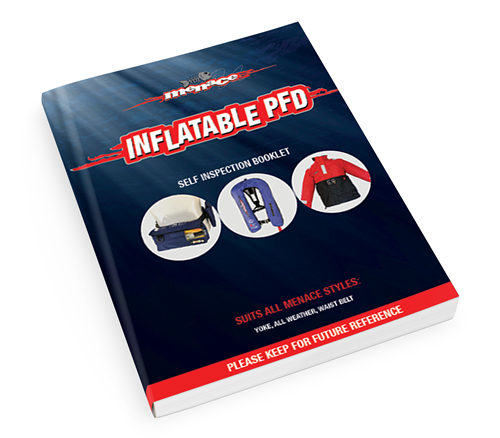 Download our PFD self inspection booklet here.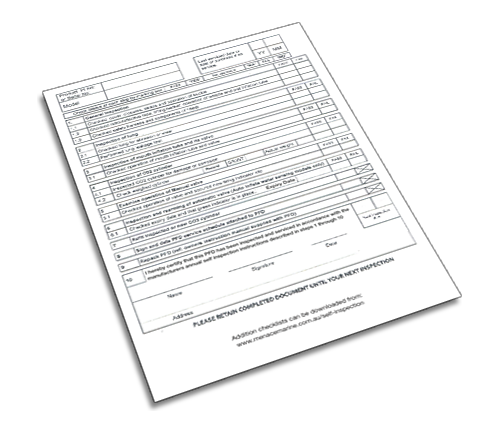 Download just the inspection checklist here.
PROOF OF PURCHASE
To ready yourself for when fishing authorities check your safety equipment, it is important you have your proof of purchase with you when out boating. The best way to do this is to put a copy of your PFD receipt/invoice inside a sealable bag like a Glad ziplock bag, and then put this in your pfd pocket.
Why do I need to do this? Your legal servicing requirements start from the date of purchase not the manufacturer date.
UNDERSTANDING PFD STANDARDS
The New Australian Standard is AS4758 (as of July 2010)
The change that will be most noticeable is a new way of identifying PFDs for different uses.
The new standard introduces the identification of PFDs by 'levels'.
Level 150 - similar to inflatable PFD Type 1 and suitable for offshore use
Level 100 - similar to PFD Type 1 and the minimum requirement for offshore use
Level 50 - similar to PFD Type 2
Level 50 Special Purpose (50S) - to replace PFD Type 3
Below are the relevant handbooks for most states & territories (including New Zealand)
Click an Image to open the handbook
Although the Safety Standards for life jackets apply national wide, the situations in which they must be worn may vary in each state.
Make sure you check the regulations in your local area before hitting the water.
Specifications
Sizing

Chest: 135-140 cm
Waist: 135-150 cm
Body Weight: 40 kg and over

Rating

Boyancy: 150 Newtons

Official Type: Level 150

Old Equivelent: PFD Type 1
Package Included
1 x XXXL size All Weather Level 150 Life Jacket
Delivery
All Items will be shipped within 24 business hours after full payment has been received.
We use Australia Post eParcel service to ship most items except certain large items will be shipped by Courier.
Please provide your best contact phone number with your order in case the courier driver needs to contact you upon delivery.
You will receive a confirmation email with shipment tracking details after item is despatched.
Please allow up to 10 business days for delivery of the product.
In the unlikely event that a problem should occur, please contact us first, and we will do our best to resolve any concerns.
Returns
All Sales are Final. Seller won't accept exchange because item is not what was expected, change of mind, or any other excuse.
An item can only be returned to seller after the seller agrees. Any item sent back to the seller without prior agreement will automatically be rejected and returned at sender's expense (if any).
For any Return, buyer is responsible for postage back to seller.
Payment
We accept Paypal, Credit Card or Bank Deposit.
Payment must be made in 4 days after order placed.
About Us
Founded in 2005, Kaiser Boating is 100% Australian owned and operated.
We supply Boating, Caravan, RV, Fishing, Camping accessories and many more.
We source and import all products directly from manufacturers and offer the best quality products and prices to our customers.
As we are actively expanding our inventory, please check back if you can't find what you're looking for. Or message us and let us know, we may be able to get it